Application industry
Plastics Processing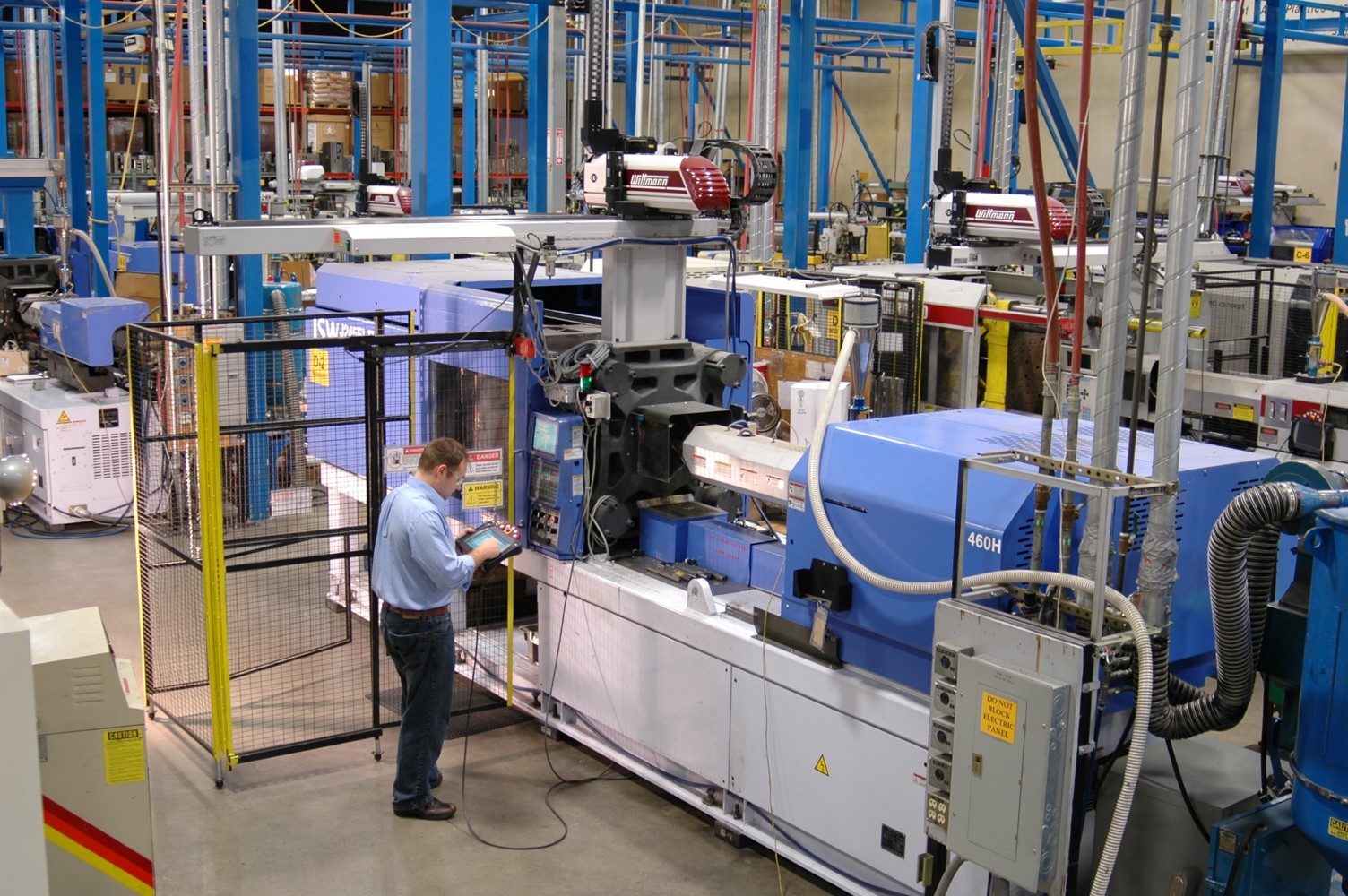 Plastics processing is the most primary industry where our thermal insulation materials are tremendously applied. Insulation for this industry is characterized by high requirements for energy efficiency, reproducible quality and cost-effectiveness. Processes like compression moulding, injection moulding, film blowing, extrusion and hot runner systems expose machines and systems to a wide variety of thermal, chemical and mechanical stresses.
In plastic injection, for example, our products are applied on molds and dies between the top clamping plate and the stationary platen and between the bottom of the ejector housing and the movable platen. The thermal insulating properties of our sheets inhibit heat transfer from the mold to the platen, which helps conserve energy and prolong service life of machines. In the hot runner feed system, similarly, parts made from thermal insulation materials are incorporated between hot manifold and A platen, bottom clamp platen. In addition to thermal insulation, the insulation parts also support the hot manifold boards as structure members.
Thermal Insulation provided by Keeprecision avoids mechanical wear, reduces preheating time, and ensure uniform temperature distribution to improve the molding performance for our customers. Our materials have excellent thermal insulation properties, low deformability and sedimentation, great mechanical strength, and chemical inertness, which are perfectly tailored to heat insulation specifications required by the mould and tool making industry. With regards to thermal insulation applications in this industry, Keeprecision surely offers high-quality thermal insulation service to our customers' satisfactory.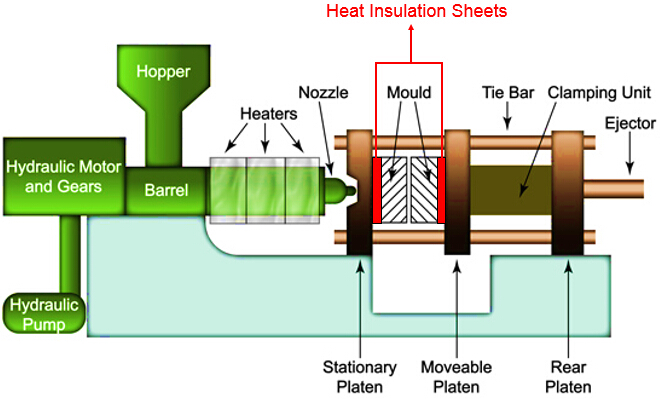 Illustration of how injection molding machines are thermally insulated

>> Our technicians and engineers will be happy to advise you.

Typical Application Industries
| | | |
| --- | --- | --- |
| Mold and Tooling Industry | | |
| | | |
| Molding insulation | Hot runner system | External heat insulation |
| | | |
| | | |
| Plastic Molding | | |
| | | |
| Injection molding machines | Blow molding | Extrusion |
| Hot-press | | |
| | | |
| Thermoplastic hot press | Thermoset hot press | |
| Packaging Machines | | |
| | | |
| Packaging machinery | Embryo bottle moulds | |
Plastics Processing(Click the product name to know more about the product details)
Brand name
Long-term Temperature
Short-term Temperature
Thermal Conductivity
Compressive Strength
Flexural Strength
Product type

110℃
110℃
0.20W/mK
320N/mm2
100N/mm2
Standard type

400℃
410℃
0.03W/mK
0N/mm2
0N/mm2
External type

120℃
120℃
0.20W/mK
300N/mm2
135N/mm2
Durable type

200℃
210℃
0.18W/mK
330N/mm2
140N/mm2
Standard type

210℃
220℃
0.19W/mK
580N/mm2
380N/mm2
High pressure type

200℃
210℃
0.18W/mK
330N/mm2
140N/mm2
Economic type

200℃
230℃
0.13W/mK
300N/mm2
200N/mm2
Energy-saving type

200℃
210℃
0.12W/mK
300N/mm2
130N/mm2
External type

200℃
210℃
0.19W/mK
600N/mm2
380N/mm2
High pressure type

210℃
210℃
0.17W/mK
340N/mm2
150N/mm2
Economic type

230℃
250℃
0.21W/mK
600N/mm2
500N/mm2
High pressure type

220℃
230℃
0.22W/mK
350N/mm2
530N/mm2
Durable type

250℃
260℃
0.23W/mK
560N/mm2
400N/mm2
Durable type

250℃
260℃
0.22W/mK
600N/mm2
360N/mm2
High pressure type

250℃
260℃
0.22W/mK
660N/mm2
760N/mm2
Bending type

250℃
260℃
0.22W/mK
570N/mm2
410N/mm2
Durable type

280℃
290℃
0.18W/mK
580N/mm2
400N/mm2
High temperature type

280℃
290℃
0.20W/mK
400N/mm2
120N/mm2
Energy-saving type

310℃
350℃
0.22W/mK
360N/mm2
380N/mm2
High temperature type

310℃
350℃
0.22W/mK
360N/mm2
380N/mm2
High temperature type

600℃
600℃
0.12W/mK
400N/mm2
200N/mm2
High pressure type