Application industry
Metal Processing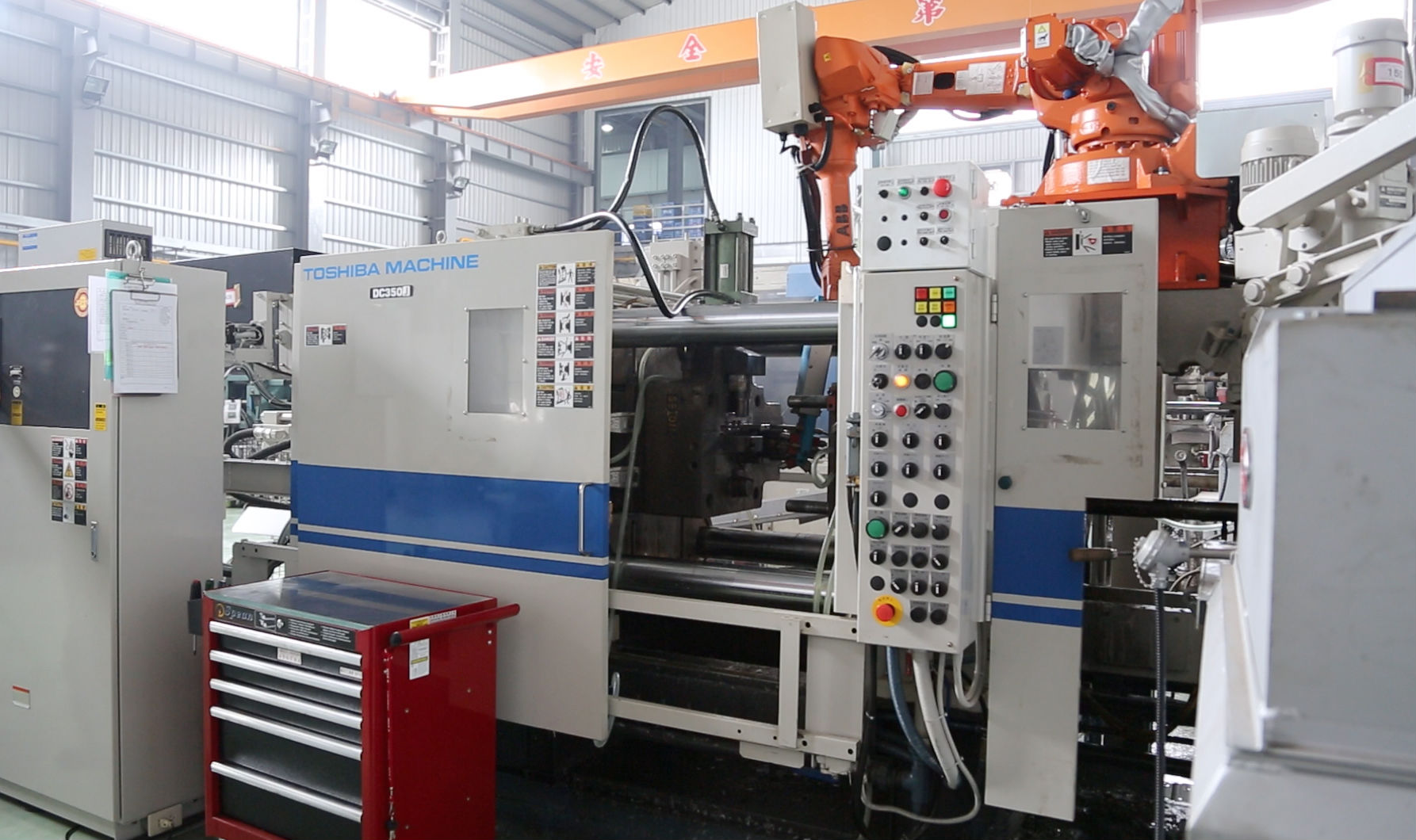 Die casting is primarily the basic process to manufacture moulded metal product, especially for magnesium or aluminum alloy processing. Similar to plastic injection molding, die casting is characterized by forcing molten metal under high pressure to a mold cavity. In a die casting process, the mould suffers repeatedly rapid temperature changes that cause interior and exterior deformation of the molding machine. The damages and toughness loss owing to temperature change (or thermal stress) may lead to micro-cracks of mold cavities, which grow gradually as they are penetrated by molten metal or damaged by continuous mechanical stresses.
To solve those problems and improving the molding performance, thermal insulation is a fundamental consideration for die casting engineers. Keeprecision thermal insulation materials, featuring excellent insulation and mechanical properties, are beneficial to molding machines since our materials can lower the molding pre-heating time and keep the mold temperature under precise control. Therefore, we help the molding engineers minimize thermal stresses and achieve the perfect reduction of production cost.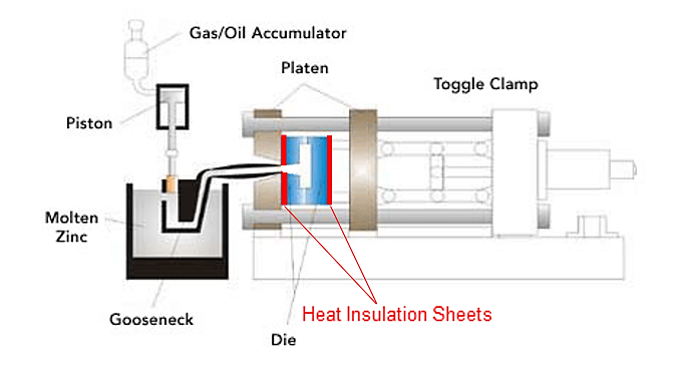 Illustration of thermal insulation in a Die Casting Machine

>> Our technicians and engineers will be happy to advise you.
Typical Application Industries
| | | |
| --- | --- | --- |
| Steelworks Equipments | | |
| | | |
| The electrode holders | EAF electrode beam insulation | |
| Induction Heat Treatment | | |
| | | |
| Annealing | Curing oven | Induction furnace |
| Casting Industry | | |
| | | |
| Melting furnace | Continuous casting | Die casting tool and mould |
Metal Processing(Click the product name to know more about the product details)
Brand name
Long-term Temperature
Short-term Temperature
Thermal Conductivity
Compressive Strength
Flexural Strength
Product type

400℃
410℃
0.03W/mK
0N/mm2
0N/mm2
External type

200℃
210℃
0.18W/mK
330N/mm2
140N/mm2
Standard type

210℃
220℃
0.19W/mK
580N/mm2
380N/mm2
High pressure type

200℃
210℃
0.18W/mK
330N/mm2
140N/mm2
Economic type

200℃
230℃
0.13W/mK
300N/mm2
200N/mm2
Energy-saving type

200℃
210℃
0.12W/mK
300N/mm2
130N/mm2
External type

200℃
210℃
0.19W/mK
600N/mm2
380N/mm2
High pressure type

210℃
210℃
0.17W/mK
340N/mm2
150N/mm2
Economic type

230℃
250℃
0.21W/mK
600N/mm2
500N/mm2
High pressure type

220℃
230℃
0.22W/mK
350N/mm2
530N/mm2
Durable type

250℃
260℃
0.23W/mK
560N/mm2
400N/mm2
Durable type

250℃
260℃
0.22W/mK
600N/mm2
360N/mm2
High pressure type

250℃
260℃
0.22W/mK
660N/mm2
760N/mm2
Bending type

250℃
260℃
0.22W/mK
570N/mm2
410N/mm2
Durable type

280℃
290℃
0.18W/mK
580N/mm2
400N/mm2
High temperature type

280℃
290℃
0.20W/mK
400N/mm2
120N/mm2
Energy-saving type

310℃
350℃
0.22W/mK
360N/mm2
380N/mm2
High temperature type

310℃
350℃
0.22W/mK
360N/mm2
380N/mm2
High temperature type

600℃
600℃
0.12W/mK
400N/mm2
200N/mm2
High pressure type

700℃
700℃
0.35W/mK
120N/mm2
32N/mm2
High temperature type

800℃
800℃
0.12W/mK
300N/mm2
140N/mm2
High pressure type

1100℃
1100℃
0.10W/mK
16N/mm2
7N/mm2
High temperature type

1200℃
1200℃
0.05W/mK
0N/mm2
0N/mm2
Soft type

1000℃
1000℃
2.00W/mK
3000N/mm2
1000N/mm2
Ceramic type

1300℃
1300℃
21.00W/mK
2550N/mm2
730N/mm2
Ceramic type

1600℃
1600℃
23.00W/mK
3300N/mm2
300N/mm2
Ceramic type