PRODUCTS
Exterior Heat Insulation



Keeprecision-400-SL

(Flexible thermal insulation bag)




Product Description

Keeprecision-400-SL is an engineering composite material made mineral wool and exterior organic cloth.

Keeprecision-400-SL mainly is used as a high-quality industrial thermal insulation material for heat isolation between hot components and the surrounding environment (e.g. IC encapsulation mould).
Technical Data
| | | | |
| --- | --- | --- | --- |
| Properties | Test Standard | Unit | Value |
| Thermal Conductivity | DIN 52612 | W/mK | 0.03 |
| Continuous Use Temperature | - | °C | 400 |
| Maximum Use Temperature | - | °C | 410 |
Availability
Keeprecision

-400-SL can be delivered as customized insulation bags based on provided specifications (size, shape, distribution of installation holes......).
All information in this data sheet is given in good faith and represents our latest knowledge. The values above are typical test results from short time tests and should not be taken as guaranteed, for specifications or primary selection of materials.
Keeprecision

-400-SL is a registered trade-mark from Keeprecision Thermal Insulation Materials Co., Ltd.
Denotation
Brand Name — Long-term Application Temperature — Color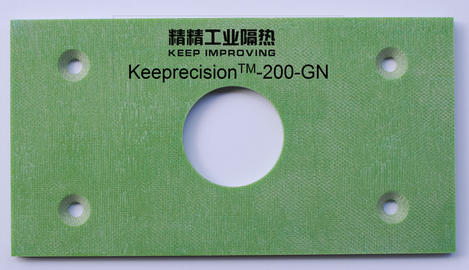 Ex. Keeprecision - 200 - GN refers to Keeprecision
green thermal insulation materials with the application
temperature 200°C.
Note: There is an additional letter "T" in the color term to distinguish between products of
the same long-term application temperature and color, but different composition.
Long-term application temperature(°C):110,120, 200, 210, 220, 250, 280, 310, 400,
500, 600, 700, 800, 1000, 1100, 1200, 1300, 1600
Capitals to denote the color: WH(white) O YE(yellow) O GN(green) O BL(black)
O BU(blue) O SL(silver) O GR (gray) O BR(brown) O GD(gold) O RD(red)
Keeprecision Processing and Delivery time
Are you still worried about the processing problems of thermal insulation boards, such as the floating dust that may affect equipment performance and human health?

Are you still worried about bad quality of the finished thermal insulation boards,such as holes, small cracks,dimension tolerance, delamination, etc.?
Now we provide customers with machining service, The delivery time is as follows:
| | |
| --- | --- |
| Product Type | Normal Delivery Time (working days) |
| Unmachined | 3 working days |
| Machined | 5-7 working days (time negotiated for special purchase quantity) |
Remarks:
● Above is the processing time. For shipping time, please refer to Freight Time MAP portal.
● Please provide CAD drawings as far as possible so that we can speed up the delivery.
● If expeited delivery is required, please use our expeited shipping service. For service details, please refer to Expeited Shipment portal.
Keeprecision Thermal Insulation Materials Co., Ltd
Working day time: 8:00 ~ 17:00 (Monday - Friday, excluding Chinese public holiday)